There are many reasons why one company might need a short term office. Whether it's about starting a new project that lasts for a few months only or being in a state of rapid growth so it's difficult to predict how big an office one will need in 6 or 12 months. It can be simply a temporary space while the original is getting a makeover, or perhaps you are in between offices, the lease is ending in one, and the new office is not yet ready. The latter was the case for Mindvalley. We were happy to welcome Mindvalley's international team at Workland Vabaduse centre. They are a great example of a business combining happiness and high-level flexibility. Laura Viilep, Head of Global Events at Mindvalley, shares her experience at Workland. 
1. What does your company do?
Mindvalley is a life learning platform that publishes ideas and teachings by the best authors in personal growth, wellbeing, spirituality, productivity, mindfulness and more – and combines them with cutting-edge, sophisticated learning technology within engaged and supportive communities. Our ultimate goal is to launch a unified school for a billion people for all stages of life. Mindvalley has a community of over 10 million people worldwide and teams in Kuala Lumpur and Tallinn. Over the last few years, we've won awards and accolades for creating one of the most unique and desirable work cultures in the world, including being on the WorldBlu List of Most Democratic Workplaces™ for ten straight years.
2. What part of your job do you enjoy the most?
As the Head of Global Events at Mindvalley and a senior team member looking after the employees, office and culture in Estonia, I enjoy creating magical experiences and bringing out the best in people. Working at Mindvalley is a lifestyle that I've been embracing for almost 10 years now, combining work and play while learning from my amazing colleagues and the best minds in the world. A true dream come true.
3. What is your field of expertise?
With over 15 years of experience in events, communication, HR, and project management, I enjoy the international playground Mindvalley has offered me to make outstanding projects happen. From creating transformational festivals and events on 3 continents to bringing teams together at company retreats and celebrations.
4. What work style prevails in your team?
With 300 team members from 50 different countries and a very international customer base, Mindvalley is a global company operating across various time zones. We offer our employees flexi-time and freedom to choose their hours. We believe happiness is the single most powerful tool for productivity, and it's woven into everything we do. 
5. Why did you choose Workland?
Our move-in date to the beautiful new Mindvalley office in Tallinn got delayed by 5 months, and we decided to make Workland our temporary home. Having a private office connected to an amazing coworking space at Workland was a great arrangement for us. The location is also very convenient and central. Many employees have found new friends and amazing contacts among the other members at Workland.
The quality of the spaces, services (the best coffee in town!), community and social events is amazing.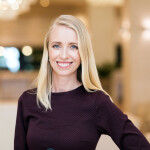 6. How do Workland's solutions meet your team's expectations?
We're very happy with the team and services at Workland. It was a very smooth experience for us and many of our team members are sad to be leaving Workland soon when Mindvalley's new office gets ready. The quality of the spaces, services (the best coffee in town!), community and social events is amazing. 
7. What are the 3 words that best describe your experience at Workland?
Welcoming, smooth, inspiring
8. What kind of businesses and companies would you encourage to choose solutions for fully serviced offices, coworking spaces at Workland as well?         
I would recommend Workland to any company looking for an inspiring environment while not having to deal with the day-to-day hassle of maintaining an office space.